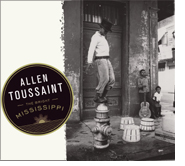 2009 from Nonesuch Records



THE BRIGHT MISSISSIPPI pres quotes >>
71 year-old composer, producer, pianist and singer Allen Toussaint can, without hesitation, be called a living legend; his work as composer, producer, arranger and performer, especially in the 60s and 70s, helped shape the sound of R&B, soul, and funk as we know it today, bringing an easy-going charm and humor to his repertoire, along with seductive, percolating rhythms indigenous to New Orleans, the city he has always called home. He's collaborated memorably with artists ranging from Lee Dorsey and Ernie K. Doe to the Pointer Sisters and Labelle, from the Meters and Dr. John to the Band and Paul McCartney.
On The Bright Mississippi, Toussaint looks past his own legacy. He reinterprets the songs of his forebears, the jazz greats who, in the early 20th century, built the genre from the ground up and turned the ears of the world to New Orleans. Backed by an all-star combo that sounds like a group of old friends, Toussaint reinterprets classic jazz and blues tunes popularized or written by such native sons as Louis Armstrong, Sidney Bechet, Jelly Roll Morton, and Joe "King" Oliver, as well as pieces composed by such fellow travelers as Django Rheinhardt, Duke Ellington, and even Thelonious Monk.
While Toussaint has always known material like "West End Blues," "St. James Infirmary," and the venerable gospel number "Just a Closer Walk with Thee," he admits that, as a performer, "I hadn't tackled them on my own. 'Tackle' is a bad word - I hadn't caressed them on my own, except to listen from time to time in passing. I knew they existed, of course, but, no, I hadn't played them before. Even the gigs that I've done during my gigging days, I was playing whatever was on the radio at the time, boogie-ing and woogie-ing and the like. I hadn't been through this standard bag. I always loved those songs, but I had never been in a setting where that is what I would do for a while. Until now."
The project indirectly grew from Toussaint's contributions to Our New Orleans, the benefit album that Nonesuch Records quickly assembled in fall 2005 to aid hurricane victims on the Gulf Coast in the wake of the Katrina disaster. That collection opens with a version of "Yes We Can Can," the Toussaint song the Pointer Sisters made famous, newly recorded with producer Joe Henry, and it included a solo piano piece, "Tipitina and Me," co-written by Toussaint in tribute to Professor Longhair. Henry, who produced The Bright Mississippi, had first worked with Toussaint when he invited the pianist to join the sessions for I Believe To My Soul, a studio convocation of mature R&B stars including Irma Thomas, Ann Peebles, Mavis Staples, and Billy Preston. ("What a time," Toussaint recalls. "That was the first time I had heard of Joe Henry or met Joe Henry. It was a monumental move as far as I was concerned.") Henry subsequently acted as producer on Toussaint's post-Katrina collaboration with Elvis Costello, The River In Reverse.
For Toussaint's Nonesuch debut, the pair initially met in Manhattan to discuss an album that would have hewed more closely to the composer's familiar repertoire. But on his flight back to Los Angeles, Henry decided he wanted to suggest to the pianist the concept of a mostly instrumental set of New Orleans-associated, vintage jazz standards. Toussaint was intrigued but hesitant: "When I first listened to the songs, they seemed remote to me, so very remote. For a moment I wondered, how does Joe see me? I didn't wonder that for very long, but at first I did. But I trusted him so much that even if I didn't understand it at all, I would have gone for it, to see what it would have been. Soon thereafter, I began to enjoy how good it felt to play these songs, not just to learn to articulate them but how good it felt in my heart - and it genuinely felt good. And then I understood what Joe was seeing in them."
As backing band, Henry selected players who were not only jazzmen: guitarist Marc Ribot, bassist David Piltch, clarinetist Don Byron, trumpeter Nicholas Payton, and drummer Jay Bellerose, plus Brad Mehldau and Joshua Redman on one track each. As Henry, himself a singer-songwriter, explains, "I wanted to surround Allen with people who were genre-less in a way. I had played with Brad on a lot on my own stuff and played with Ribot a lot; I know what they are capable of. The only way we could really explore this music was to bring people in who appreciate it and know it really well, but who aren't in any way bound by it."
When Toussaint arrived at Avatar Studio in Manhattan, he quickly bonded with the ensemble, as the loose, affable swing of the resulting tracks attests. Henry's style as a producer is eloquently matter-of-fact; he avoided anything self-consciously retro or awkwardly contemporary, opting for something that comes across as just about timeless.
Recalls Toussaint, "It was wonderful. Everything is live, of course. This isn't the kind of assembly line music where somebody put the wheels on here and somebody put the top on there. Everything got done at the same time, so everybody fed on each other, their personality and tonality."
Henry concurs: "We put the musicians in a circle; we set everybody up with baffles, drums included, around the piano. It was amazing to count off the first song, 'Singing the Blues,' and hear how it became something really, really specific. I found that infinitely exciting as a record maker, the moment of discovery that happens when people know the song well enough to let go but they don't know it so well that they're doing anything by rote."
The prodigious Mehldau, who often favors a more ruminative style, came to the studio directly from the airport, just off a flight from Holland, to playfully spar with Toussaint on "Winin' Boy Blues." Says Toussaint, "He was delightful, delightful. At first I didn't know what we would do. But I was very glad he was someone who was removed from my scene, the New Orleans thing. I loved where he was coming from, and he was extremely good. Not that he couldn't go anywhere he wanted, but he had a particular place he was coming from, and I think the contrast is quite nice."
Redman nailed his solo on the Ellington/Billy Strayhorn piece, "Day Dream," on the first take. Toussaint praises Redman's "beautiful tone. I could just listen to him alone, solo. I'd love to catch him on a street corner somewhere. He was absolutely wonderful. And everyone was hip to him much more than I was. When I told my son about him, he said, 'Oh yes, he's the bomb. He this, that, and the other.' And my son was right. Joshua is a marvelous musician. He's finely tuned to what he's looking for in his sound; he doesn't accept stock."
Toussaint hadn't previously played with Payton, another New Orleans native, but, he says, "I've known Nick all of his life, in a distant way. His father, Walter Payton, I've used on many sessions—in fact, he's the bassist on 'Working in a Coal Mine' and those Lee Dorsey records, early on. Nicholas Payton's father and I have been on many recordings together, but I have never worked with Nicholas before now. I had heard him, I knew he was out there; I knew he was kicking. I must say that he has such a calmness about him and he's so wide-awake. When I listen back to some of the things we did on the recording, I could see how attentive he was to everything that was going on, and not just himself. He's a marvelous musician. Personality exemplified, and it translates."
Toussaint, whose manners are as impeccable as the suits he wears, is a natural collaborator, and his willingness to step well outside his musical comfort zone ensured the success of these downright revelatory sessions. Says Henry, "He's always sounding like himself, always being himself - that quiet, deferential person - yet you notice that he always find a way to communicate his point of view." The three years since Toussaint was uprooted from New Orleans in the aftermath of Katrina have been tumultuous, yet creatively rich. While acknowledging the tragedy, Toussaint says now of Katrina, "I accepted it not only as a drowning but a baptism." The artist returned to the places he knew best, to the recording studio and the concert stage, performing at benefits and shows of his own. Toussaint, like the music he embraces on The Bright Mississippi, hasn't just survived, he has endured.
- Michael Hill
---