"Mavis Staples is the most underrated diva of the century. She has an almost superhuman ability to implant the pure power of passion and emotion." - Rolling Stone

A Lifetime Grammy Award winner, National Heritage Fellowship award winner, Rock And Roll Hall Of Fame inductee.

Included on Rolling Stone's 100 Greatest Singers of All Time and VH1's list of 100 Greatest Women of Rock and Roll.

With the groundbreaking family gospel group The Staple Singers ("I'll Take You There", "Respect Yourself", etc) and on her own, Mavis is responsible for blazing a rhythm & blues trail while never relinquishing her gospel roots.

Appearances alongside everyone from the Reverend Dr. Martin Luther King, Jr. to Bill Cosby to Presidents Kennedy, Carter and Clinton to musicians Janis Joplin, Pink Floyd, Santana and Tom Petty & The Heartbreakers and recording sessions with Prince, Bob Dylan, Los Lobos, Aretha Franklin and so many others barely scratch the surface of Mavis' accomplishments.

With Ry Cooder on board as producer, Mavis reached back to the Freedom Songs of the 60's and new originals for her latest studio hit CD "We'll Never Turn Back" (Anti Records) which appeared on over 30 "Best Of" critics lists (including #1 CD of the Year from the Chicago Tribune).

Mavis recently released her first live solo CD "Live: Hope at the Hideout" - a recording of her acclaimed show at Chicago's Hideout.

Mavis is available for bookings in two separate formats: Mavis Staples performing with her own band as well as her show Mavis Staples - A Tribute to Mahalia Jackson. In her band shows, Mavis performs the hits of The Staple Singers ("I'll Take You There", "Respect Yourself", more) as well as solo material from her most recent CD We'll Never Turn Back. For the Mahalia Jackson tribute, Mavis performs classic gospel songs associated with gospel great and Mavis mentor, Mahalia Jackson, accompanied by an organist.
---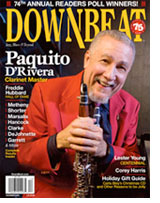 Bill Frisell, Mavis Staples, Allen Toussaint CDs Recognized Among Best of the 2000's by Downbeat Magazine - Frisell #2 Jazz CD of the Decade Per London Times
December 2009, Rosebud News
CDs by Bill Frisell, Mavis Staples and Allen Toussaint have been recognized among Downbeat Magazine's Best of the 2000's, published in their January 2010 issue. Bill Frisell has four CDs on the list: Ghost Town (2000), Blues Dream (2001), East/West (2005) and History, Mystery (2008). Also honored are Have A Little Faith (2005) by Mavis Staples and Allen Toussaint's GRAMMY nominated The Bright Mississippi (2009). The list also names two historical releases featuring future Rosebud artists: Stax/Volt Revue Live In Norway 1967 DVD featuring Booker T. & the MGs and Newport Folk Festival: Best of the Blues 1959-1968 Box Set, which features performances by Muddy Waters and John Lee Hooker, who were both Rosebud artists until their passing.
Bill Frisell's East/West was honored with similar praise from the London Times, where was rated #2 on their "Best Jazz Albums of the Noughties" list.

Catch Bill, Mavis and Allen live on stage, please see Bill Frisell Tour Dates >> Mavis Staples Tour Dates >> Allen Toussaint Tour Dates >>
---
10 Grammy Nominations for Rosebud Artists!
December 2009, Rosebud News
We're thrilled to announce that Rosebud Artists received 10 Grammy nominations for this year's awards taking place on January 31, 2010 in Los Angeles. Artists honored with nominations include Mavis Staples' Live: Hope At The Hideout nominated for Best Contemporary Blues Album. Please see the full entry >>
Rosebud has been fortunate in that generally our artists score between 4 and 6 Grammy nominations every year but 10 is definitely a new record and we are Thrilled, especially considering the fact that Rosebud artists only released 14 eligible CDs this past year. Congratulations to all the nominees!
---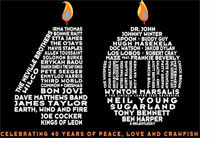 Rosebud Artists Everywhere At New Orleans Jazz Fest
May 2009, Rosebud News
Rosebud Artists could be found performing in a wide variety of formats during the 40th Annual New Orleans Jazz and Heritage Festival (April 24 - May 3).
Mavis Staples also showcased the breadth of her talent with three separate shows for the festival beginning with a moving tribute to Mahalia Jackson on the first day of the festival. This was followed two days later with her own SRO performance at the Gospel Tent and the next morning with a Gospel workshop for the community at Tulane University..... read full story >>
---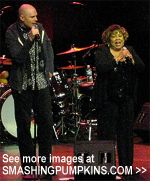 Billy Corgan from The Smashing Pumpkins Joins Mavis Staples Onstage in Chicago
April 2009, Rosebud News
Mavis Staples both opened and closed a night of music to celebrate the 25th anniversary of WTTW-TV's "Chicago Tonight" at the Harris Theater in Chicago, IL on April 17, 2009. Her second set included two songs with Billy Corgan of The Smashing Pumpkins. According to SmashingPumpkins.com, "Corgan accompanied Staples on a cover of "For What It's Worth" as well as the Staples Singers' classic "Will The Circle Be Unbroken." While Corgan's vocals never overpowered Staples', it was hardly a surprise, as the soul songstress' celebratory energy and booming voice overtook almost every element of her performance. Rather, Corgan danced in place and sang along to the classic selections, all the while sporting an impossible to miss grin, clearly relishing the opportunity to perform alongside a true musical legend…Corgan and Staples walked off stage, first hand in hand then arms around each other, displaying an unmistakable musical respect and affinity for each others massively disparate approaches." You can catch Mavis Staples at the New Orleans Jazz & Heritage Festival this weekend or on tour throughout 2009 - see tour dates >>

---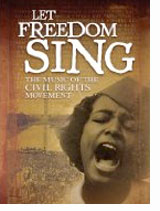 Mavis Staples, The Blind Boys of Alabama, The Staple Singers and The Late John Lee Hooker Featured On Civil Rights Box Set
March 2009, Rosebud News
Rosebud Artists, Mavis Staples, The Blind Boys of Alabama, The Staple Singers and the late John Lee Hooker are featured in the recently released 3 CD set Let Freedom Sing! The Music of the Civil Rights Movement. Highlights include the songs "Free At Last" by The Blind Boys of Alabama, "Down In Mississippi" by Mavis Staples, "Why (Am I Treated So Bad)?" by The Staples Singers and "The Motor City Is Burning" by the late John Lee Hooker. The collection documents music important to the civil rights movement, released from 1939 up through today. "You get the heart, the soul, the sentiment and the struggle of a people," says Public Enemy's Chuck D, a consultant on the project, who also wrote the introduction for the liner notes. A companion documentary DVD originally broadcast on PBS will be released June 2, 2009.
Please check the song tracks and video clips at: letfreedomsing.us and imeem.com/letfreedomsing
---
Rosebud Artists Score 5+ Grammy Nominations
December 2008, Rosebud News
Rosebud Artists captured 5+ Grammy nominations for the upcoming 51st Grammy Awards. Artists were honored in the following categories.
Best Contemporary Blues Album - Marcia Ball's Peace, Love and BBQ
Best Zydeco Or Cajun Music Album - BeauSoleil avec Michael Doucet for Live At The 2008 New Orleans Jazz & Heritage Festival as well as Michael Doucet's own From Now On
Best Traditional Gospel Album - The Blind Boys of Alabama for their Down In New Orleans CD which also features Rosebud artist and New Orleans legend, Allen Toussaint
Best Jazz Instrumental Album - Bill Frisell's History, Mystery.
Best Long Form Music Video category, Respect Yourself - The Stax Records Story featuring Mavis Staples and Booker T Jones (and named after The Staple Singers' hit) also scored a nomination.
Our heartiest Congratulations and sincere Best of Luck to all the nominees.
---
Three Rosebud Artists Among Rolling Stone's "100 Greatest Singers of All Time"

November 2008, Rosebud News
Three Rosebud artists were featured in Rolling Stone's special on the "100 Greatest Singers of All Time" in their November 27, 2009 issue. Mavis Staples was chosen as #56. The late and legendary Muddy Waters and John Lee Hooker were also recognized at #53 and #81 respectively. Both were Rosebud artists until the end of their careers. The tribute to Muddy Waters was written by former Rosebud artist Ben Harper ("His voice really pierced me in a way that wouldn't let go"). The tribute to John Lee Hooker was written by Bonnie Raitt ("I was just swept away by the power of his voice") in a nearly full page prelude to the article in the magazine's opening pages. The article also quotes Bob Dylan as saying of Mavis Staples's singing, "That just made my hair stand up, listening to that."
Also featured in the issue is a tribute to Otis Redding (#8) written by Rosebud artist Booker T. Jones. Booker, with The MGs performed on Otis Redding's biggest hits while at Stax Records.
Catch Mavis Staples on tour this winter >>
Stay tuned for upcoming Booker T. Jones tour dates >>
---
Mavis Staples New CD Live: Hope at the Hideout Out November 4

August 2008, Rosebud News

Mavis Staples will release her first live solo CD Live: Hope At The Hideout on election day - November 4, 2008. The album was recorded in Mavis' hometown of Chicago last June at The Hideout, Chi-Town's renowned stronghold of alt country and purist rock and roll. The audience who packed the sold-out club were blessed with a riveting musical statement as Mavis, backed by her fiery three-piece band and three backup singers, put on a rousing musical tour de force captured live for the rest of us. It's also fitting that Mavis' record will come out the same day that one of the most momentous elections in U.S history will be decided. Mavis' dedication to social justice and freedom spans over 40 years of modern history as her voice became a living soundtrack to the Civil Rights Movement in the 1960's with The Staple Singers, and in 2007 she won an Americana Music Association "Spirit of Americana" Free Speech Award created to honor artists who have incited discussion and worked against the status quo through their music and their actions.
To download a free track from the CD ("We Shall Not Be Moved"), as well as read more about Live: Hope At The Hideout please go to: http://www.anti.com/artists/view/44
To see Mavis Staples on tour, please see tour dates >>
---