---
10 Grammy Nominations for Rosebud Artists!
December 2009, Rosebud News
We're thrilled to announce that Rosebud Artists received 10 Grammy nominations for this year's awards taking place on January 31, 2010 in Los Angeles. Artists honored with nominations include Jim Lauderdale for Could We Get Any Closer? (Best Bluegrass Album), and Elvis Costello's Secret, Profane & Sugarcane features Jim. Jim also co-wrote the title track to George Strait's Twang. Please see the full entry >>
Rosebud has been fortunate in that generally our artists score between 4 and 6 Grammy nominations every year but 10 is definitely a new record and we are Thrilled, especially considering the fact that Rosebud artists only released 14 eligible CDs this past year. Congratulations to all the nominees!
---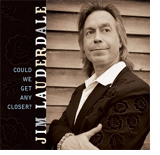 Jim Lauderdale's Could We Get Any Closer? In Stores Now
buy at JimLauderdale.com >>

Jim Lauderdale's new CD, Could We Get Any Closer? Is now in stores. The disc is produced by Randy Kohrs, who produced Jim's Grammy-winning The Bluegrass Diaries album, and finds Jim collaborating with some of Nashville's best musicians. Jim wrote six of the new songs and co-wrote the others with songwriters Robert Hunter, Shawn Camp, Odie Blackmon, and Candace Randolph. Jim is currently on the road as a member of Elvis Costello's Sugarcanes band and he is featured on Elvis' latest CD, Secret, Profane & Sugarcane. See Jim performing both with Elvis and on his own, please see Tour Dates >>
---
Jim Lauderdale With Elvis Costello On Austin City Limits, On New Willie Nelson CD, George Strait Single
November 2009, Rosebud News
Jim Lauderdale continues his role as a featured member of Elvis Costello's Sugarcanes band, performing in the current episode of Austin City Limits, airing now. Watch a song from the show here. Jim is featured on Elvis' latest CD, Secret, Profane & Sugarcane, and toured with him this last summer. Jim is also currently in the studio working with Willie Nelson on his upcoming CD which is being produced by T Bone Burnett. And George Strait's version of "Twang", co-written by Jim, is the title song of Strait's new CD and is climbing the charts. Catch Jim live on stage, please see Tour Dates >>
---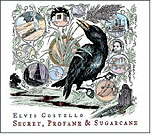 Jim Lauderdale Featured On New Elvis Costello Disc & Appearing With Elvis On Letterman And Conan
May 2009, Rosebud News
Two-time Grammy winner Jim Lauderdale is featured on Elvis Costello's new disc, Secret, Profane & Sugarcane, to be released June 2, 2009. Elvis writes, "I've admired Jim Lauderdale's recordings for a good while... Jim is singing close vocal harmony on every song [on] this record. He's mastered that art of singing the second line without ever pulling attention from the narrator of the tale... It's transparent and essential at the same time... As fine a singer and songwriter as he is on his own recordings, I can't say enough about the tone and timbre that he adds to mine on every line he hits." Jim will become a member of Elvis Costello & The Sugarcanes for their June tour dates including appearances June 4 on the Late Show with David Letterman and June 23 on The Tonight Show with Conan O'Brien. In September, Jim hosts the 2009 Americana Honors & Awards for the 7th time in the 8-year history of the awards, which take place at the Ryman Auditorium in Nashville. See Jim live on tour, with Elvis, with Jim's own band and solo including stops at various Summer festivals - please see tour dates. please see tour dates>>
---
Rosebud Signs Two Time Grammy Winner Jim Lauderdale
October 2008, Rosebud News

The Rosebud Agency has signed Jim Lauderdale for exclusive worldwide representation. Jim is one of the premier Americana and Bluegrass artists in music today. Patty Loveless, The Dixie Chicks, Mark Chestnut, Vince Gill, and George Strait are just a handful of the artists who have recorded Jim's songs. His Bluegrass Diaries CD won Jim his second Grammy award this year. He followed up quickly this year with Honey Songs with The Dream Players, a band that features Jim with legendary guitarist James Burton (Elvis Presley, Johnny Cash) and renowned sessionman Al Perkins (The Rolling Stones, Roy Orbison, James Taylor). The release lead to national television appearances for the band on Late Night with Conan O'Brien and The Tonight Show with Jay Leno. Jim's most recent collaborations appear on new releases from Lucinda Williams and George Jones. He just hosted the Americana Awards for the 6th time where he was nominated again for Americana Artist of the Year, an award he won, along with Song of The Year, in 2002. He was also just featured in Elvis Costello's group (along with Emmylou Harris) at San Francisco's Hardly Strictly Bluegrass Festival prior to heading to Japan for a tour there.
Watch for extensive 2009 touring for both Jim Lauderdale, The Dream Players and Jim's bluegrass band.
---
Grammy Congratulations! Allen Toussaint, The Blind Boys of Alabama, BeauSoleil avec Michael Doucet, The Dirty Dozen Brass Band, Marcia Ball, Bill Frisell, Trombone Shorty, and James Burton
February 2009, Rosebud News
Grammy Congratulations to Allen Toussaint who was awarded the Grammy Trustees Award, performed on the live TV broadcast and was the featured public interviewee Thursday for the Grammys Legends series! Allen's song "Fortune Teller" is also featured on the Robert Plant / Allison Krauss Raising Sand CD - the big winner at the Grammys this year. The Blind Boys of Alabama were honored with the Grammy Lifetime Achievement award and also won their 5th Grammy for their Down In New Orleans CD. BeauSoleil avec Michael Doucet were also Grammy winners for their Live CD from the 2008 New Orleans Jazz & Heritage Festival. The Dirty Dozen Brass Band joined Allen Toussaint and Lil Wayne on the Grammy telecast. Also nominated for Grammys were Marcia Ball, Bill Frisell and Michael Doucet for his solo CD. Trombone Shorty was featured on Dr. John's Grammy winning City That Care Forgot and James Burton, who performs in Jim Lauderdale's Dream Payers band, shared the Grammy for Best Country Instrumental for Cluster Pluck. In addition, the Grammys Louisiana luncheon featured appearances and performances from The Blind Boys of Alabama, The Dirty Dozen Brass Band, Allen Toussaint and Michael Doucet. Congratulations All!
---
Information is coming soon on this site.
In the meantime, please check Jim Lauderdale's official website.
Thank you!
---