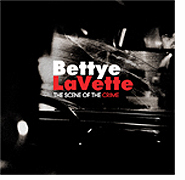 September 25, 2007 from ANTI RECORDS


RETURN TO THE SCENE OF THE CRIME
(Bettye LaVette in Muscle Shoals AL - 35 Years Later)
The lounge in the Marriot Hotel is called Swampers after the nickname given The Muscle Shoals Sound Rhythm Section by Leon Russell and made famous by Lynyrd Skynyrd's "Sweet Home Alabama." Having a hotel as nice as the Marriot is a brand new development and is largely due to the area's reinvention as a retirement community and golf resort. New courses are being designed and built along the beautiful banks of the Tennessee River, which cuts through the middle of my home region, four towns in two counties in the northwest corner of Alabama known collectively as The Muscle Shoals Area. From the large windows of the Swamper's you get a panoramic view of Wilson Dam, once the largest in the world and the first in what became the TVA Dam Project which created beautiful Wilson Lake and first brought electricity to my home region during Roosevelt's days.
Besides the TVA dams, the other thing my hometown is famous for is it's musical heritage. Beginning with the birth of WC Handy, who was born in Florence before going on to fame and fortune as "The Father of the Blues" through Sam Phillips who was born just north of town and moved to Memphis where he discovered Elvis, Johnny Cash, Carl Perkins and Jerry Lee Lewis (to name a few) and became the accredited architect of Rock and Roll to Rick Hall who co-founded Florence Alabama Recording Enterprises (FAME) which proved to be a ground zero for the movement known as Soul Music and the first of several recording studios that captured the sounds and grooves of this area and broadcasted them to the world.
Swampers is covered nearly wall to wall with photographs of the many recording greats who came to my sleepy hometown to make records back in the sixties and seventies. Other studios began to spring up, most notably Muscle Shoals Sound Studios (where my Father was a co-owner and session bassist). The Rolling Stones came to Muscle Shoals Sound to record "Brown Sugar" and "Wild Horses" on their way to Altamont. Aretha Franklin had famously recorded "I Never Loved A Man (The Way I Love You)" at FAME Studios where Wilson Pickett cut "Mustang Sally" and Etta James recorded "Tell Mama." The hits just kept coming. "When A Man Loves A Woman", "I'm Your Puppet", "Sweet Soul Music" and The Staple Singers' immortal "I'll Take You There." At that point the floodgates opened and artists ranging from Paul Simon and Willie Nelson to Bob Seger and Rod Stewart all made the trip to Muscle Shoals.
It was from Swampers that I picked up Bettye LaVette and her husband Kevin to drive them to FAME Studios for introductions and a little planning on the eve of the recording of this album. I hadn't expected to see them that evening and my ringer was turned off so they had sat there at the bar for a little while before I got there to pick them up. Tired from their trip down from New Jersey and no doubt having a cocktail or two surrounded by black and white photos celebrating a musical legacy that she was a part of. It was surely duly noted that there was no photograph of Bettye LaVette on the wall of Swampers and with the addition of a couple more cocktails there just might be hell to pay.
1972 was in every way a landmark year for Muscle Shoals' music history. The three or four biggest studios were churning out hit after hit earning the community a place in the record books and the tag line proclaiming it "The Hit Recording Capitol of the World". No idle boast, there were indeed more gold records per capita being made there than anyplace on earth. It was (and still is) an ultra-conservative Bible-Belt community and most of the populace was (thankfully) oblivious to all of this. It was a dry county, meaning that to buy a beer you drove to the Tennessee State Line, fifteen miles away or one of the many bootleggers. There was no live music scene, save for a band or two playing country covers at "The Line" but there was this network of studios and publishers and small labels putting out hit after hit fed by demand for authentic southern soul music. The stars were aligned and magic was in the air. Bettye LaVette had just signed with Atlantic Records and they brought her down to Muscle Shoals to make a record that was to be her long-awaited breakthrough hit. Unfortunately it just didn't quite work out that way.
Bettye LaVette has recently turned sixty-one, but you wouldn't know it to look at her. She is probably in better physical shape than most people a third her age with striking features and intense eyes that say "Respect me or I will whip your ass!" and more than enough strength and fortitude to back it up. She is in the throws of what must be her most stable period of success in a career that dates back to 1962 and a teenaged R&B hit called "My Man (He's A Loving Man)." She grew up in Detroit, peers and friends with other young talented black men and women who went on to become superstars at Motown and Atlantic. She has stories of David Ruffin sleeping on the floor of her mama's house and young Supremes still learning their craft, one that Bettye learned well and continued to develop for nearly half a century. Her peers went on to far greater fame and fortune while Bettye labored on the sidelines, sometimes supporting her family by singing in hotel lounges, much like the one at my hometown, only without the vintage photos.
While her soul music peers appeared to burn brighter, making and losing fortunes along the way, Bettye persevered and kept it together. Wilson Pickett and David Ruffin are gone and most of the survivors have seen their talents diminished by years of abuse and neglect. Bettye, on the other hand is at the top of her powers. A true soul survivor at a time when so many of her peers make that term seem like a quaint cliché'.
Spooner Oldham and my father, David Hood are two more soul survivors. Veterans of the Muscle Shoals heyday, they (separately or together) played on most of those fore-mentioned hit records and lived to tell about it. My dad was the bass player on the Bettye LaVette sessions from 1972 and when I was hired to work on this project I immediately planned on using both of them for her return to my hometown thirty-five years later.
What exactly did happen in 1972?
It may be one of the great mysteries of the soul music era. The record they made (in about three days according to my Dad's studio logbook) was an excellent soul record, a classic even, except that instead of being released, it was put in a vault at Atlantic Records where it stayed and collected dust for about three decades. If you ask ten people why you will get ten different answers and no one claims to really know for sure. Listening to it now, one is struck with just what a special record it is. It sounds among the best of the great classic soul albums, except that instead of familiar hit after familiar hit these are somehow tracks that time (and pop culture) forgot. It wasn't even released until over a generation later.
One thing is for sure; times were a changing in late 1972. Stax was coming off its most successful year ever, but would be destroyed and bankrupt within two more years. The classic soul era was certainly coming to an end, being replaced by the more threatening (and political) sounds of funk and soon the blander more corporate sounds of disco. Perhaps her record was just a little bit out of its own time or perhaps she just wasn't willing to be pigeonholed or manipulated in the ways that industry asked. Whatever happened, the record was shelved by the label without ever having its time in the sun. Bettye's career suffered from this setback but she kept working. Defiant and proud and with a family to support, she continued singing because that's what she did.
Her singing led her to Broadway stages and the fore-mentioned hotel lounges, but she never stopped. The hits never really came either, but she continued making records (although not nearly as often as she might have liked). The amount of technical skill she picked up along the way helped her maintain the versatility to do whatever she was called for but it also sometimes made her less likely to "dumb it down" as artists are sometimes called to do when navigating this turbulent business.
Around the same time that the factories began to close around my home region, the music industry there began to change also. The trends that had brought so many artists there to record were changing and there was an increasing movement towards self-contained bands so finding session work meant relocating to one of the bigger cities like LA, New York or Nashville. Muscle Shoals Sound Studios was sold and my Father had to commute more and more often to find work. Spooner Oldham continued to thrive, often touring with acts like Bob Dylan and Neil Young (who he has played with off and on for thirty years) and playing on sessions by artists as wide-ranging as Jewel and Gram Parsons. FAME continues to this day, largely on the back of their successful publishing interests. The studio itself is largely unchanged (except for the occasional gear updates) from its 1966 heyday.
Bettye LaVette's fortunes began to change when in 2000 a French label discovered and released the "lost" Atlantic album and a strong cult following began to emerge. In 2003 she won a prestigious WC Handy Award and soon after she was signed by Anti Records, where she released her most acclaimed album yet, 2005's "I've Got My Own Hell to Raise" and began an extensive tour that spread her story and amazing voice to audiences around the world.
I grew up and moved to Athens GA where I put together a band with my long-time partner Mike Cooley called Drive-By Truckers. By the end of 2006, we had been on the road nearly non-stop since 1998, making seven albums along the way and playing well over a thousand shows. Our band had reached a stopping point and was about to take some time off for rest and some much needed reinvention. We vowed to lay low for most of 2007 devoting time to our families and some other interests like solo ventures and perhaps a production project or two before beginning our next album.

Last fall, I received a call from Anti Records President Andy Kaulkin who inquired if I might be interested in working with Bettye. Having grown up worshipping the great soul albums and always wanting to get to work with one of the legends, I jumped at the chance to get to work with her. I had found an import of the 1972 album and was also a huge fan of her Anti debut. Soon, I was talking to her on the phone about the album and compiling songs from all over the spectrum to play for her. In one early conversation, I asked her if she would like to co-write a song with me for the album, but she nipped that in bud stating "I don't write songs, I interpret them." This set the stage for a working relationship that was sometimes bumpy but always rewarding.
Andy's initial idea was to pair Bettye with a working band, one that has played together on the road and on albums for years and years. For a lack of a better description, a sort of "Exile on Bettye LaVette Street" except that Bettye is no fan of The Rolling Stones and having worked so hard for so long for her time in the light, she wasn't about to share it with a bunch of "young" upstarts like myself and my band. On the song front, having established that we wouldn't be co-writing together, I sent her around fifty songs to listen to and batted a big zero, as we didn't record a single one of them. Andy knew what he was doing though, as for all our differences, Bettye shares a lot of common ground with me and with my band. Proud and defiant or stubborn as a mule (depending on who you ask), this common ground might have made for some turbulent times in the studio, but it also has made for a great album. Much great art has been made through high pressure and tension and this one certainly fits the bill. Never one to give up easily, I set out to co-write at least one song with Bettye and from the first day began writing down little things I would hear her say in the studio.
Bettye is a walking encyclopedia of amazing stories and great sayings and soon I was attempting to capture that defiant voice into a song that would somehow sum up her story. Finally, after a particularly good day of recording, I played her the song I had written and was shocked and amazed when she agreed to record it. She then took my finished song and completely reworked it (Don't tell me you're not a writer!) and the result is "The Battle of Bettye LaVette" which we recorded shortly before finishing the album.
As for the actual recording of the album, the plan was to convene in Muscle Shoals at FAME Studios and make it all up together. We had learned the basic structures of the songs themselves but everything else was up for reinvention and reworking. David Barbe and I would handle the production while a combination of Drive-By Truckers and several veterans of the Muscle Shoals scene would provide musical backing. Spooner was hired to play Wurlitzer and piano on all of it. My Dad would play bass on several songs. I had an overall list of songs and a basic time frame outline, but otherwise, everything was up for reinterpretation.
As the sessions got underway, word seemed to spread across the music community about what we were up to and soon more and more of the original Muscle Shoals players began to show up to check it out or pay respects. Veteran session legends Jimmy Johnson and Roger Hawkins both came by to listen to what we were up to. Bettye hadn't seen either one of them in 35 years but soon they were catching up on old times like dear old friends. Rick Hall, who founded and still owns FAME came by almost daily and was both encouraging and a source of great old stories. One night after a session, Bettye ended up hanging with Kelvin Holley, who plays with Little Richard and The Decoys (which also features my Dad on bass) and the next day he was there strapping on a guitar and playing on a song. One night our friend Tim brought dinner over for all of us.
But beyond the great players and stories and food the real highlight of making this record was whenever Bettye began to sing. David set her up with a microphone in a booth in the hopes of capturing good live takes during tracking and a safe majority of the album's vocals came from what would normally be the "scratch" take. On the final day of recording we set aside plenty of time to redo anything that needed it and she ended up knocking all of that out in about two hours. This was my favorite part of the entire project, as I wasn't "busy" doing anything else and could watch a master at work. She would prepare for a take the way I picture DeNiro getting into character for a film. It occurred to me that Bettye was very much a method actor and her attention to every minute detail of a lyric is nothing less than astounding.
The days we spent together in Muscle Shoals are a bit of a blur, but the following anecdote stands out. It was Saturday afternoon and we had just recorded Ray Charles' "Call It Love" and were about to try a take of Willie Nelson's "Pick Up My Piece." She and I had just disagreed about something or another and I had settled in the assistant chair next to David who was engineering the session. The song began and a hush filled the control room as we all realized we were hearing something very incredible coming through the monitor. All of us sat there stunned listening to the take play live (exactly what you will hear when you play the record). After the jaw-dropping performance, Bettye came bounding into the control room listing all of the things that were wrong to her about the completed take. Barbe, cool as a cucumber, didn't say a word and motioned for me to do the same. He just pushed play and let the take fill the room once again. By the time it was over Bettye was in tears (and she wasn't alone) and everyone agreed that something magical had just occurred. The fact that the next day there would be a song and take that would even be greater is a testament to how special this project was and is.
The album's tour-de-force and true gravitational center is the old Elton John song "Talking Old Soldiers." The song, a strange oddity of a track in it's original form is transformed by Bettye into both a defiant statement of her survival and an exorcism of the demons brought on by years of mistreatment and indifference from a musical industry that prefers cookie-cutter formulas to artistic genius. To call it one of the most profound performances in the history of soul music is an understatement. In twenty-two years of playing in bands and a lifetime of being obsessed with music and art, I've never heard anything like it. Witnessing it's recording, stripped bare to just piano, bass and a slight hint of pedal steel and that voice, that terrifying and magnificent voice, shook all of us to our cores and continues to every time I hear it played. I may be prouder of those four and a half minutes than anything I've ever been involved with.
It's thirty-five years after Bettye first came to Muscle Shoals to make the record that somehow did define her career and she has returned to the scene of the crime to take it to another level. We all learned some things about ourselves and made an album that transcends any genre. I am eternally proud and thankful that I was able to be there as a witness and participant. Next time I visit home, I plan to take a photo of Bettye for Swampers to hang on their wall.
Patterson Hood – May 21 2007