Rosebud is music industry's first Solar Powered facility >>


buy CDs via rosebudus.com and help music charities >>


Certified Green - The Rosebud Agency has been named among the first San Francisco businesses to become officially certified as a Green business. >>


---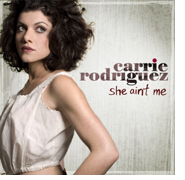 Carrie Rodriguez's New CD, She Ain't Me, Out August 5
Carrie Rodriguez's latest CD, She Ain't Me, will be released August 5 on Manhattan/Back Porch records. Produced by Malcolm Burn, the album features fresh songwriting collaborations with Gary Louris (Jayhawks), Dan Wilson (Semisonic), Jim Boquist (Son Volt) and Mary Gauthier, with Carrie co-writing all but one track. Lucinda Williams, a big Carrie fan, sings backup on "Mask of Moses" while Gary Louris, Rich Stearns and Eric Platz also make guest appearances throughout the album. She Ain't Me features a stellar lineup of supporting players, including Hans Holzen (electric guitar), Greg Leisz, Kyle Kegerreis and Malcolm Burn. Watch for Carrie on Austin City Limits in late October.
She will be touring extensively in support of the CD. see tour dates >>
---
Booker T. Jones Honored With 2008 Musicians Hall of Fame Induction
Booker T. Jones will be honored with induction into the Musicians Hall of Fame in Nashville as a member of Booker T. & the MG's. The group helped create the famed Memphis/Stax sound in the 1960s, playing on recordings by Otis Redding, Sam and Dave, The Staple Singers, Albert King and Rufus Thomas among many others. They were also stars in their own right with legendary hits including "Green Onions," "Time Is Tight," and "Hang'Em High." Other 2008 inductees include the Memphis Horns, the Muscle Shoals Rhythm Section, Buddy Holly's band the Crickets, Al Kooper and producer Billy Sherrill. A formal induction ceremony will be held in October. Booker is currently writing and recording material for a new solo album as well as on the road playing tour dates with the MG's and his own band. .. see Booker T. Jones solo tour dates >>
---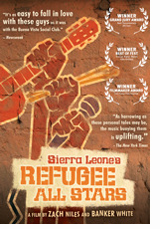 Award-Winning Documentary "Sierra Leone's Refugee All Stars" Available Now on iTunes
The acclaimed documentary "Sierra Leone's Refugee All Stars" is now available for worldwide purchase on iTunes. The inspiring film follows the band's incredible journey, from living the refugee life as a result of the brutal civil war in their native Sierra Leone, to recording their first album. This heartbreaking yet life-affirming story won thirteen major awards, including honors at the AFI Film Festival, Miami Film Festival and Human Rights Watch Film Fest and was also aired on PBS nationwide on the Independent Documentary Film Series, Point of View (POV). Filmmakers Zach Niles and Banker White have partnered with New Video to make the remarkable film available to an even wider fan base through iTunes and to continue spreading the film's positive message of hope and peace.
"Sierra Leone's Refugee All Stars" is available on iTunes >>
Stay tuned for upcoming tour dates for Sierra Leone's Refugee All Stars >>
---