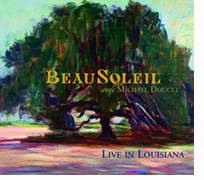 April 28, 2006 from WAY DOWN IN LOUISIANA
more information and online store available at
Way Down in Louisiana >>
Cajun music trailblazers BeauSoleil avec Michael Doucet release Live in Louisiana in celebration of the spirit of survival
First-ever live recordings from Cajun and Creole country released to coincide with the 2006 New Orleans Jazz & Heritage Festival
Tracks include "L'Ouragon (The Hurricane)" and "Conja (New Orleans 1786)"
April 28, 2006, Lafayette LA
In commemoration of the band's 30th anniversary, Cajun music trailblazers BeauSoleil avec Michael Doucet announce the release of BeauSoleil: Live in Louisiana, the band's first live recording tracked in the heart of Cajun and Creole country. The high-energy disc features the first-ever live versions of 12 songs from across the band's wide-ranging repertoire and includes a number of rarities from the group's expansive songbook.
They've been called "The World's Greatest Cajun Band" by Garrison Keillor of "Prairie Home Companion" and others, and their latest album offers a message of hope in its spirited tracks and the twin meanings of its title. "We played these songs before live audiences," notes fiddler and bandleader Michael Doucet, "and this project is dedicated to all of us who live in Louisiana."
The CD package features an evocative painting of a live oak by noted Louisiana artist Elemore Morgan, Jr. "Live oaks live for hundreds of years," Doucet adds, "and their branches open to embrace the winds of change. Like live oaks, Cajun and Creole culture have endured and survived as sources of strength in times of adversity."
After Hurricanes Katrina and Rita ravaged Louisiana and the Gulf Coast last year, the band's home base in the south-central Acadiana region welcomed refugees from Texas to Florida, many of whom are still working to rebuild their lives and homes. "The Cajun people left France in search of a better life, and their bitter exile from Nova Scotia rendered them homeless," Doucet relates. "We've been more than happy to welcome our cultural cousins from the Crescent City and beyond to our home, and to share our spirit of survival with them."
BeauSoleil's post-Katrina tour dates expanded to incorporate a number of benefit performances for storm victims, and the group also donated a new studio version of "L'Ouragon (The Hurricane)" to Our New Orleans, the best-selling benefit album released last year on the Nonesuch label. (NPR: Musicians Regroup to Benefit "Our New Orleans")
BeauSoleil: Live in Louisiana, the band's new release, features a soaring live version of "L'Ouragon (The Hurricane)" as well as a second-line driven version of "Conja (New Orleans 1786)," two songs specially dedicated to The City That Care Forgot. The haunting "Chanson d'Acadie," a song about leaving to find a better place, further links past and present.
The album's soulful and rollicking renditions of songs from across the Cajun and Creole cultural spectrum were recorded during a pair of 30th anniversary shows Jan. 11 and 12, 2006 in New Iberia and Lafayette, LA.
"BeauSoleil is a force of nature," notes producer Todd Mouton, "and Cajun music is made for participation. When we put the record together we tried to mix it as though the dance floor was on the stage. You won't hear lots of clapping and yelling, just fantastic instrumental and vocal performances."
A dozen powerful tunes filled with spirited flat-picked guitar solos, fiery fiddle and accordion duels and funky interlocked percussion workouts make up the record. "To me, this album captures the group's emotional approach to their sound better than anything they've ever released," Mouton continues.
The disc traces the band's recorded history while mining influences from Cajun fiddle pioneers Dennis McGee and Wallace "Cheese" Read to Creole and zydeco accordionists Alphonse "Bois Sec" Ardoin, Freeman Fontenot and Boozoo Chavis. The new disc winds through ballads, blues and jazz like the easy-flowing bayous of these parts, and picks up contagious energy with a no-holds-barred two-step, funky second line rhythms, a loping baisse-bas, propulsive reels, western swing-infused swamp pop and straight-up zydeco.
BeauSoleil: Live in Louisiana is available at select retailers and online at www.waydowninlouisiana.com. Purchasers of the disc will also be treated to a bonus mp3 audio interview with Michael and David Doucet by emailing orders@waydowninlouisiana.com.
The new album was mixed and mastered by Ivan Klisanin and produced by Todd Mouton, and is the first release on the Way Down in Louisiana imprint. The CD package was designed by Grammy-nominated graphic designer Megan Barra and features the work of acclaimed photographer Terri Fensel.
This record is truly history in the making.