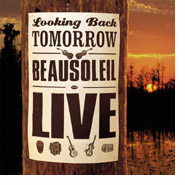 released in 2001 from RHINO RECORDS


by Michael Tisserand
Author of The Kingdom of Zydeco (Arcade)
A myth has been going around the past couple decades or so about the Cajuns. You might have heard it: they're the ones always dancing, singing, and letting the good times roll.
Don't believe it. It is undeniably true that Cajuns know how to have a good time (best illustrated by the late accordion legend Nathan Abshire's motto, "The good times are killing me."). And yes, among these people are some of the best singers, dancers, and chefs to be found anywhere. But spend some time in the Cajun stomping grounds of southwest Louisiana, and you quickly realize that something else is going on.
These Cajuns are revolutionaries, and music is their weapon.
Just look at the namesake for the world's best known and loved Cajun band. In 1755, Joseph Broussard dit BeauSoleil helped lead the Acadian resistance to a forced exile from their home in what is now Nova Scotia. When their efforts were thwarted, Broussard moved with the Acadians to help establish the early Cajun settlements in Louisiana. He was not forgotten. For the past quarter century, his name has traveled the world - thanks to a cast of tradition-minded musicians called BeauSoleil, led by one ferociously talented fiddler, singer and songwriter, Michael Doucet.
Doucet dates the band name back to a childhood family reunion that took place in a house built by Joseph Broussard's son. Fittingly, Doucet has under that name been leading his own musical insurgency these past 25 years. Among his goals has been nothing less than a reclamation of the word "Cajun" itself. "When I was growing up, the word 'Cajun' was never used," says Doucet. "People finally started to become a little more proud of their culture. Even if you weren't as educated as a Philadelphia lawyer, you had something to offer, to give a way of life."
Nowhere is that cultural pride better expressed than in the music of BeauSoleil. For a quarter-century and counting, this astounding band has been delivering new fans to their music, playing in concert halls, festivals, and dances around the world; on film and TV soundtracks; and on a series of often adventurous recordings, among them L'Echo, Cajunization and the 1997 Grammy-winning L'amour ou la Folie. The band has appeared on countless major TV and radio shows, often providing spellbound viewers and listeners with their first taste of Cajun music. It's no wonder A Prairie Home Companion's Garrison Keillor called his frequent guests "the best Cajun band in the world."
Cajun artists had tasted fame before, but BeauSoleil was the first professional Cajun band to do it on their own terms. They based themselves in Louisiana, giving their friends and neighbors the chance to share in their worldwide success. Folks back home got to follow along as the band played events surrounding Jimmy Carter's 1976 inauguration, they saw their song "Zydeco Gris-Gris" used in the opening tracking shot for The Big Easy, they caught them playing the Super Bowl with Mary Chapin Carpenter. They shared in their multiple Grammy nominations and ultimate award for L'amour ou la Folie, which came a full 12 years after their first nomination, for the album Zydeco Gris-Gris.
For Doucet and the band, there were no road maps; the 25-year journey of BeauSoleil has been as innovative as their music. "We were learning how to maintain and guard our culture, and bring it out to American people," says Doucet. "To be going out to English-speaking audiences and not be playing English songs, that was something else."
When BeauSoleil set out 25 years ago, there was no "Cajun craze." There was no blackened redfish, no Cajun specials at the Red Lobster, and it was fairly difficult to just get a good bottle of hot sauce outside of Louisiana. In the town of Lafayette, the Cajun Music Festival - now an annual Mecca for Cajun music fans - was only two years old. For many Cajuns, their identity, what set them apart - their music, language, food, and lifestyles - was more a source of shame than pride. In fact, many older Cajuns could still recall getting whipped for speaking French on the schoolyard.
This was BeauSoleil's starting point. And this is the landscape that BeauSoleil has forever changed. From the start, BeauSoleil did more than eschew traditional ways - they clung to them. "The first thing we thought about was just playing our grandparents' music," Doucet says. "Old, traditional acoustic music."
One way BeauSoleil accomplished this was to get out and meet those grandparents, and their neighbor's grandparents, and forge lasting musical alliances. Members of the band would play and record with everyone from Cajun fiddle legend Dennis McGee to Creole fiddler Canray Fontenot, both of whom are now deceased. Fittingly, for LOOKING BACK TOMORROW: BEAUSOLEIL LIVE!, the band's 25th anniversary live album, Doucet penned two tributes to his heroes: one to the late black Creole accordionist Amédé Ardoin ("Amédé"), the other to the Cajun fiddler Varise Connor ("Varise").
The notion of debt, of homage, was with the band from the beginning. Doucet reflects on the band's origins by recalling a place called Holly Beach - a Louisiana coastal area dotted with fishing camps - where the founding members of BeauSoleil sat around the table with Cajun fiddler Hector Duhon, father of then-band member Bessyl Duhon. For another glimpse of these early inspirations, turn to photographer Elemore Morgan Jr. and folklorist Barry Ancelet's classic book Cajun And Creole Music Makers, which includes an early photo of Doucet, fiddle at his side, watching closely as Connor plays a song. It was part of a study Doucet conducted with support from the NEA Folk Arts apprenticeship program; it was the birth of BeauSoleil.
And it's the past, present, and future of Cajun music. A primary reason why the unique community of French- and English-speaking denizens of the American South never completely lost their Cajun identity is because their musicians kept playing it back to them. From the social dances of 19th century sharecroppers to the first Cajun musicians to hit it big in Nashville in the post-war era, music has always been a central force for Cajuns. But it was BeauSoleil that - true to their revolutionary name - brought it all back home.
They did so by digging into the inherited songbook and performing the songs of masters such as Ardoin, McGee and the Balfa Brothers. They never treated the music like it was a museum piece, never pretended they were 19th century sharecroppers. They had a different agenda: to carry the fire evident in the music of every great Cajun musician into a new musical age. "We loved old-style French music and vowed to pursue and preserve this music," Doucet says. "Not in a stiff, academic manner, but in the way that we had learned it, straight from the heart and played like one's life depended on it."
Today, you can feel that fire in any contemporary BeauSoleil performance: Michael Doucet bears down on his fiddle, his hair waving wild in the spotlight, an expression of fierce joy on his face. Beside him, his brother David, one of roots music's most innovative guitarists, his every solo ratcheting up the level of excitement. The accordion of Jimmy Breaux (grandson of Cajun accordion pioneer Amedee Breaux) is solidly in the Cajun tradition, yet infinitely adaptable to the band's musical adventures. Drummer Tommy Alesi and percussionist Billy Ware provide a rich, rhythmic texture that goes far beyond "keeping the beat." Finally, Al Tharp contributes everything from banjo to bass to second fiddle - he's just one of BeauSoleil's many secret weapons.
BeauSoleil is, as music critic Richard Gehr once described L'amour ou la Folie, now "at the height of their confident, highly spirited, and considerably unstagnant powers. By now the sextet transcends the dancehall, possessing the ability to transform nearly any traditional Cajun, Creole, or French tune into high art while preserving a clear sonic bloodline back to its roots."
For 25 years, Doucet and BeauSoleil have refused to compromise their vision. With roots lodged deep, the band has branched out, recording with everyone from dobro guru Jerry Douglas (on Hawaiian-inflected tunes) to Richard Thompson to New Orleans clarinetist Dr. Michael White. From surf to zydeco to blues to jazz, BeauSoleil has not only played it, they've made it their own. They've expanded the scope of what it means to play - and be - Cajun.
"I can't look at this like I'm a farmer and I was born in 1890, because I'm not," says Doucet. "I was born in 1951, and we were the last generation of people who could look before them and see the culture before it got totally enraptured by television, by the oil boom.
"The culture is always shedding its skin," Doucet explains. "I look at it like a serpent, the culture is continuing to evolve. For me, I try to encompass it all, what came way before I was born, and what is current."
Which is exactly how Cajun music will survive - by growing. Today, a new line of Cajun bands surges from Louisiana, taking inspiration from BeauSoleil's example. Always on the crossroads of tradition and change, BeauSoleil will be there, throwing down a new dance. The draw on the fiddle, the tug on the accordion, and the ground comes to life under dancers' feet, again and again.
"What really binds you is that you all know the music is much greater than you are, and we're part of that now," says Doucet. "That's what propels us, keeps us doing what we're doing, and holds us together."