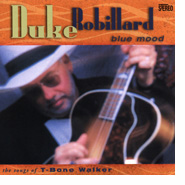 2004 from STONY PLAIN RECORDS


Here's a quick quiz: What do Bob Dylan, Jay McShann, The Fabulous Thunderbirds, John Hammond, the late Jimmy Witherspoon, Dr. John, Maria Muldaur, Roomful of Blues, and Ruth Brown all have in common?
Answer: Duke Robillard.
Guitarist. Bandleader. Songwriter. Singer. Producer. Session musician. And a one-man cheering section for the blues, in all its forms and permutations. And every one of those names has shared recording studio space or stage time with a man who is a legend in the blues community.
Duke Robillard won his fourth award as "Best Guitarist" at the 25th Annual W.C. Handy Blues Awards held in Memphis on April 29, 2004. The win ties him with the late Albert Collins, who also collected the award four times, as second on the list in the category. Legendary blues guitarist Buddy Guy leads the category with six awards.
B.B. King says "Duke's one of the great players," and the Houston Post called him "one of God's guitarists." The New York Times says Robillard is "a soloist of stunning force and originality."
Robillard's newest album, Blue Mood, is a salute to the songs of the legendary Aaron "T-Bone" Walker. Blue Mood brings Duke Robillard back to the music that initially inspired him to pick up the guitar. The album is steeped in the Texas blues sound of electric guitar pioneer T-Bone Walker and features Duke backed by his regular band, plus an all-star horn section that includes several of his old friends from Roomful of Blues, the seminal blues band that Robillard founded in 1967.
"In the back of my mind," says Duke Robillard in the album's liner notes, " I always knew that someday I would record a tribute to my mentor, the Father of electric blues guitar, T-Bone Walker. The purpose of this project was multifold. Of course, celebrating the work of T-bone was first and foremost. Recording an album which captures the feel and natural sound of this type of band, jazz-steeped musicians playing the blues (my favorite sound) was something I also wanted to document. This has been an inspirational project of the highest order for me."
A true road warrior, he's still out touring, playing as many as 250 dates a year. And still proving, night after night, that his true talent is bringing people out to hear the music, appreciate the show, and dance to the blues.
Duke had his first band in high school -— he was born in Woonsocket, Rhode Island — and he was fascinated from the beginning by the ways in which jazz, swing, and the blues were linked. In 1967, he formed Roomful of Blues, and the band was tight enough and tough enough to accompany two of its heroes, Big Joe Turner and Eddie "Cleanhead" Vinson on record and in live appearances.
Always ahead of his time, Duke's first band pre-dated the renewed interest in jump blues by more than a decade — and almost 20 years later, in 1986, when he recorded with jazz sax master Scott Hamilton, he recorded a collection of classic big band tunes from the '30s and '40s, thus skillfully pre-dating the neo-Swing craze of the mid '90s.
Roomful of Blues — which still continues to record and perform — gave Duke his first exposure to a wide public, and when he left after a dozen years, he played briefly with rockabilly king Robert Gordon, then cut two albums with the Legendary Blues Band (a sterling collection of former members of Muddy Waters' band). He led his own band until 1990, then replaced Jimmy Vaughan in the Fabulous Thunderbirds.
In 1993, as he was about to sign a world-wide recording deal with Virgin/ Pointblank, he met Holger Petersen, head of the Canadian independent label Stony Plain, at a folk festival in Winnipeg. In conversation, he mentioned he wanted to record a complete album of blues, without the r&b and jazz influences of his work to date.
Petersen was interested; Virgin gave the go-ahead, and the resulting album, Duke's Blues, earned rave reviews. It was so successful, in fact, that Virgin soon licensed the record from Stony Plain and released it around the world (except in Canada, where it continues in the Canadian company's catalogue.
Blue Mood is Duke's sixth solo album for Stony Plain and follows his critically acclaimed 2003 release, Exalted Lover, which featured duets with country music star Pam Tillis and blues guitar goddess Debbie Davis. Billboard called it "an oak-solid work from a master bluesman."
In addition to his own albums, Duke has produced (and played on) a number of projects for Stony Plain, including two albums with the late Jimmy Witherspoon, three with Kansas City piano king Jay McShann, comeback CDs for Billy Boy Arnold and the late Rosco Gordon, a swinging confection with the Canadian band The Rockin' Highliners, and two superb albums of guitar duets with the jazz legend Herb Ellis. In August of 2004, Duke will be part of a great new CD coming from Stony Plain called New Guitar Summit, which teams him with fellow axe slingers Jay Geils and Gerry Beaudoin for an album of swing jazz.
As if this growing catalogue was not enough, he has found time to share studio gigs with Bob Dylan (the Daniel Lanois-produced Time Out of Mind sessions), Ruth Brown, the late Johnny Adams, John Hammond, Pinetop Perkins, and Ronnie Earl, among many others. He now has his own 24-track studio in his home, and he has become deeply involved in graphic design and photography as well as record production.
Duke Robillard is a man in command of a full range of creative talents — unique in the blues, and rare in the music industry as a whole. He is, in fact, a complete artist at the height of his powers.