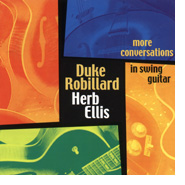 2003 from STONY PLAIN RECORDS


Liner notes by Peter North
Peter North is an Edmonton, Alberta-based writer, broadcaster and concert producer
Though they represent different generations in the family of American guitar greats, Herb Ellis and Duke Robillard are brothers-in-arms. The parallels that run between the two gifted and creative forces are almost uncanny, and once examined, it makes complete sense that the two would eventually team up for the lengthy session that produced the acclaimed 1999 release Conversations in Swing Guitar and this its follow-up, More Conversations in Swing guitar. Ellis, a pioneer in his chosen idiom, and on his instrument, wasn't even twenty years old when he began contributing his rich and bright sound to bandstands that were under the command of such luminaries as Jimmy Dorsey, around 1945. It didn't take long before the Texan's abilities had been noted by the jazz elite, and within the space of a few years it was Ellis who was tapped to take the place of the legendary Barney Kessel in the Oscar Peterson trio. He stayed six years working with the brilliant pianist and composer in that unit that also included bassist Ray Brown who would become a lifelong friend and collaborator. In the last half century Ellis has created a body of work, as a bandleader, solo artist, a much sought after session ace and accompanist, that is staggering in it's depth and spirit. Embracing and exploring all the shades of swing and blues, Ellis' beautiful and pliable phrasing and instantly recognizable tone was documented by the classic jazz labels of the day including Verve, Pablo and of course Concord, for whom he recorded almost three dozen discs. It would almost be more expedient to draw up a list of greats Ellis hasn't worked with, but when the roll call is done the legend created timeless sounds with not only Peterson, Kessel and Brown but other jazz legends like Billie Holiday, Harry "Sweets" Edison, Ben Webster, Charlie Byrd and George Duke, as well as fellow texans Johnny Gimble and Willie Nelson. Duke Robillard's name fits comfortably into that list after these two projects that brought Ellis and he together in a cozy Rhode Island studio a few years ago.
Like Ellis, Robillard was still a teenager when he began making a name for himself and attracting the attention of the artists who had inspired and influenced him, among them Eddie "Cleanhead" Vinson and blues shouter Big Joe Turner. As the founder of Roomful of Blues Robillard not only assembled what would eventually become the cream of the crop of the late-sixties/early seventies east-coast blues renaissance, he would establish himself as a tasty and formidable guitarist with a deep appreciation for tradition, and the vision to consistently put an identifiable and full-bodied spin on classic themes. For Robillard, the lines between blues and jazz were never blurred, the intersection was clean and obvious. His discography shows that when he wasn't adding texture and upping the soul quotient to recordings by the likes of Johnny Adams, The Fabulous Thunderbirds and Bob Dylan or producing discs for Jay McShann, John Hammond or Jimmy Witherspoon, he'd regularly take time to slide into that vein that was originally mined by Ellis, Kessel and Charlie Christian. Robillard's work for Rounder Records on discs like Swing and After Hours Swing Session where he nailed compositions by Christian, Tiny Grimes, Ben Webster and Lionel Hampton are stand-out recordings in the guitarist's extensive catalogue. It's no wonder Ellis and Robillard are birds of a feather and no one had a better vantage point to the interplay that is the backbone of this album and it's predecessor that Robillard's right hand man, engineer Jack Gauthier. "Herb and Duke may be forty years apart in age, but they are kindred spirits," says Gauthier from his home away from home, Rhode Island's Lakewest Recording Studio. "They share such a wonderful vocabulary. Right from the start of the sessions they really were, in a melodic sense, an extension of each other." Gauthier, who has work behind the board with his fair share of brilliant guitarists over the years and many jazz and blues legends relays, in his opinion, what to this day has set Ellis apart from so many other talented musicians. "Watching and listening to Herb, you start to realize that there is a fearlessness in his playing. He never gets flustered with anything that might not work and just blazes along which always leads to something marvelous happening."
"Herb is a no b.s. guy and as the sessions went on you could tell he was really enjoying it. He'd be smiling and nodding to some of Duke's reference points. Other than that the only thing that ever moved were his hands, he has such economy of motion in his playing," recalls the engineer who still had the images of the sessions finely etched in his mind, three years after they went to tape. As Duke Robillard stated in the liner notes of the first Conversations in Swing Guitar album, the sensitive and sympathetic playing of rhythm acoustic guitarist Terry Holmes, drummer Marty Richards and bassman Marty Ballou neatly tied this entire project together. Indeed, it was a superb team of highly respected and creative individuals that produced this recording of timeless music and its predecessor. One only wishes there was a third installment waiting in the wings.