Rosebud is music industry's first Solar Powered facility >>


buy CDs via rosebudus.com and help music charities >>


Certified Green - The Rosebud Agency has been named among the first San Francisco businesses to become officially certified as a Green business. >>

Loudon Wainwright III in Martin Scorsese's, "The Aviator"
Loudon Wainwright III appears in "The Aviator" starring Leonardo DiCaprio and directed by Martin Scorsese. The film will be released to select theatres December 17 and nationwide on Christmas. Loudon appears in the film as an entertainer at the Coconut Grove as do his children, Rufus and Martha Wainwright, each in different decades. Loudon recently appeared in "Big Fish" directed by Tim Burton and has also just finished filming a role for an upcoming film by Cameron Crowe. Look for Loudon's upcoming CD, Here Come The Choppers!, to be released by Sovereign Artists in April.

---

5 Rosebud Artists Honored With 12 W.C. Handy Blues Awards Nominations
The Blues Foundation's nominees for the 26th Annual W.C. Handy Awards feature five Rosebud artists scoring a total of 12 nominations. Mavis Staples' first appearance in the Handy voting has her scoring among the most nominated artists this year with four nominations including Blues Album of the Year and Soul/Blues Album of the Year for her new release Have a Little Faith as well as a nod for Soul/Blues-Female Artist of the Year. The title track "Have a Little Faith" also received a Blues Song of the Year nomination for writers Jim Tullio and Jim Weider. Perennial winner, Charlie Musselwhite received three nominations including Contemporary Blues Album of the Year for Sanctuary, Contemporary Blues-Male Artist of the Year and Best Instrumentalist-Harmonica. Marcia Ball also continues as a Handy favorite with nominations for Best Instrumentalist-Keyboards as well as Contemporary Blues-Female Artist of the Year. Duke Robillard garnered a nomination for Traditional Blues Album of the Year for his album Blue Mood: The Songs of T-Bone Walker and again is honored for his virtuosity with a nomination for Best Instrumentalist-Guitar which he has won four of the past five years. Bettye LaVette continues her Handy honors with a nomination for Soul/Blues-Female Artist of the Year.
The W.C. Handy Awards will take place on May 5, 2005 at the Cook Convention Center in Memphis, TN. For more information go to blues.org >>
---
Rosebud Agency Artists Receive / Collaborators in 8 Grammy Nominations
Mavis Staples, The Dirty Dozen Each Share Honors in Three Genres
Rosebud artists have once again scored big in the just announced Grammy nominations as they have been honored directly, or as participants in 8 nods spread over the Blues, Gospel, Folk and Alternative categories. The Blind Boys of Alabama follow their back-to-back-to-back Grammy wins with shared nominations for both Best Traditional Soul Gospel Album for their collaboration with Ben Harper on There Will Be a Light and for Best Gospel Performance for the title track from that album. Charlie Musselwhite scored his 7th Grammy nomination for Best Contemporary Blues Album with Sanctuary. Beausoleil's Gitane Cajun garnered their 10th Grammy nomination for Best Traditional Folk Album. Mavis Staples makes an appearance in all three genres. She received a Grammy nomination for Best Gospel Performance for her collaboration with Dr. John on the song "Lay My Burden Down," (which also features The Dirty Dozen Brass Band) from Dr. John's "N'awlinz Dis Dat Or D'udda," additionally nominated for Best Contemporary Blues Album. Mavis is also the featured artist performing "Hard Times Come Again No More" from the album Beautiful Dreamer - The Songs of Stephen Foster which has been nominated for Best Traditional Folk Album. In addition to backing Mavis and Dr. John (as well as Dr. John, B.B. King and Willie Nelson on another track from the same CD) The Dirty Dozen are also featured on Modest Mouse's Good News For People Who Love Bad News which scored a nomination for Best Alternative Album.
The Grammy Awards will be held on February 15, 2005. more info at Grammy.com >>
---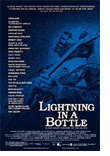 Robert Cray On Biography Channel, PBS, and Scorsese film


Robert Cray appears as an interview subject in the Eric Clapton Biography on the Biography Channel beginning December 6. Robert also appears with his band and separately with Buddy Guy, Eric Clapton, Jimmie Vaughan, Robert Randolph and Hubert Sumlin in the Crossroads Guitar Festival feature now showing on PBS and also on DVD. Robert also appears in two segments of the Martin Scorsese film, Lightning In A Bottle, currently showing at select theatres nationwide. A five time Grammy Award winner, Robert has just begun recording his second CD for Sanctuary Records for release in the late Spring.

---

Kaki King to perform on Letterman 12/20/2004
Kaki King has been invited to perform on Late Night with David Letterman on December 20, 2004. This follows her recent NPR Weekend Edition appearance and coincides with her cover feature on Acoustic Guitar magazine. In a routine world of pop/rock and generic radio fodder it is rare that a young instrumental guitarist is given such an opportunity, a fact that clearly underscores Kaki's unique talent. This will be Kaki's second network television appearance, her first being Conan O'Brien in the Fall of 2003.
---