---
JJ Cale Joined Onstage By Tom Petty & Mike Campbell On First Stop of Rare Tour
JJ Cale just kicked off his first solo tour in five years, supporting his acclaimed new album, Roll On. The tour began with two shows at McCabe's in Los Angeles, on March 27 and 28. On the second evening, fans were treated to a surprise appearance by Tom Petty as well as Heartbreakers guitarist Mike Campbell, who both sat in with Cale for the second half of his set. AOL Spinner was on the scene with a good summary of the proceedings - read the full review here >>
The initial thirteen dates of the JJ Cale tour sold out briskly, with tickets added later for three final shows. A portion of the proceeds from each show on the tour will be donated to local animal shelters and rescue efforts.
Cale's backing band on this tour includes Bill Raffensperger (bass), Walt Richmond (keys), David Teegarden (drums/percussion) and James Cruce (drums/percussion). All but Cruce recorded with Cale on Roll On and all but Raffensperger played on The Road To Escondido, the Grammy winning Gold record collaboration by JJ Cale and Eric Clapton. Roll On has earned JJ Cale his best initial sales and highest debut on the Billboard Top 200 in at least the past 25 years. The new disc was featured on BBC2, which has the largest UK radio audience, as Album of the Week in its first week of release there and is topping sales charts across Europe. For details on tour dates, please see here >>
---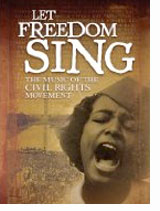 Mavis Staples, The Blind Boys of Alabama, The Staple Singers and The Late John Lee Hooker Featured On Civil Rights Box Set
Rosebud Artists, Mavis Staples, The Blind Boys of Alabama, The Staple Singers and the late John Lee Hooker are featured in the recently released 3 CD set Let Freedom Sing! The Music of the Civil Rights Movement. Highlights include the songs "Free At Last" by The Blind Boys of Alabama, "Down In Mississippi" by Mavis Staples, "Why (Am I Treated So Bad)?" by The Staples Singers and "The Motor City Is Burning" by the late John Lee Hooker. The collection documents music important to the civil rights movement, released from 1939 up through today. "You get the heart, the soul, the sentiment and the struggle of a people," says Public Enemy's Chuck D, a consultant on the project, who also wrote the introduction for the liner notes. A companion documentary DVD originally broadcast on PBS will be released June 2, 2009.
Please check the song tracks and video clips at: letfreedomsing.us and imeem.com/letfreedomsing

---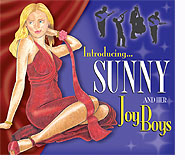 Introducing Sunny And Her Joy Boys, Featuring Duke Robillard, Out March 24


Sunny And Her Joy Boys debut CD, featuring Duke Robillard, will be released by Stony Plain Records March 24, 2009. Duke writes that the CD showcases, "some of my favorite 1930s tin pan alley and classic jazz tunes featuring the wonderful vocalist Sunny Crownover as well as Billy Novick, along with Paul Kolesnikow, Jesse Williams and myself. It was a joy to record and we are looking forward to doing many live appearances around New England and the country." The disc will be a featured CD of the Month on the internationally syndicated House Of Blues Radio Hour for the month of April. The Rosebud Agency will book the group exclusively while continuing to book Duke Robillard in his other band formats.
See Duke live on tour, please see tour dates>>
---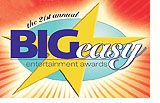 Rosebud Artists Honored With 2009 Big Easy Music Awards Nominations
Trombone Shorty, The Dirty Dozen Brass Band and BeauSoleil are all being recognized for their achievements at the 2009 Big Easy Music Awards in New Orleans on April 19, 2009. The Dirty Dozen Brass Band's influential history is being acknowledged by awarding them the Music Heritage Award. Trombone Shorty & Orleans Avenue are nominated for Best Funk Band and Trombone Shorty himself is nominated for Best Male Performer, a category he won last year. Trombone Shorty also makes a guest appearance on Best Album of 2008 finalist - City That Care Forgot by Dr. John & the Lower 911. BeauSoleil is nominated for Best Cajun Band, a category that they have dominated in the past with 10 previous wins. Best of luck to all the nominees!
---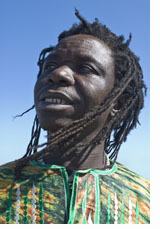 Idrissa Mallam Bangura, Sierra Leone's Refugee All Stars Bassist, Passes
Idrissa Mallam (Mallam) Bangura, Sierra Leone's Refugee All Stars bassist, passed away unexpectedly this past week in his hometown of Freetown, Sierra Leone. There will be a celebration of his life this week in Sierra Leone with musicians from around the country gathering to pay tribute. Donations to help support his wife and six month old baby can be made via checks payable to 'The Refugee All Stars of Sierra Leone' and forwarded to:

Attn: Fiona O'Grady
The Rosebud Agency
P.O. Box 170429
San Francisco, CA 94117
For more information and to view pictures of Mallam, please visit RefugeeAllStars.org >>
Thank you for anything you can do to help.
---

Allen Toussaint and Trombone Shorty Featured On New Orleans Jazzfest Posters
Allen Toussaint and Trombone Shorty are each featured on the two official posters for the milestone 40th Anniversary New Orleans Jazz and Heritage Festival this year.
Trombone Shorty is, by about two decades, the youngest artist ever to be featured on the festival poster - quite an honor and an acknowledgement of his already impressive accomplishments and outstanding talent.Allen Toussaint, fresh from an appearance on the 2009 Grammys telecast and recipient of the 2009 Grammy Trustees Award will release, The Bright Mississippi, his first solo album in more than a decade on April 21, 2009. The Fest takes place over the last weekend in April and first weekend in May, 2009.
Past editions of the prestigious Jazzfest poster have featured Louis Armstrong, Professor Longhair, Wynton Marsalis, Mahalia Jackson, Harry Connick, Jr. and the inventor of New Orleans Jazz, Buddy Bolden. Opening day of each year's Festival sees throngs of collectors sprinting for the poster tent and the poster usually selling out before the Festival's end.
For a history of the Jazzfest poster phenomena, please see:
34 YEARS OF MUSIC TO THE EYES:™ A BRIEF HISTORY OF THE JAZZ FESTIVAL POSTER >>
Check out or purchase the posters at:
Art4Now: New Orleans Jazz & Heritage Festival Collectibles On-Line >>
Allen Toussaint and Trombone Shorty will be performing at Jazzfest and around New Orleans during the festival, as well as touring the country and overseas throughout the year, please see tour dates:
Allen Toussaint tour dates >> Trombone Shorty tour dates >>

---
JJ Cale's Roll On Scores Record First Week Sales And Chart Debut and BBC2 Record Of The Week, New Tour Dates Added
JJ Cale's new album, Roll On, has scored his highest first week sales and highest debut on the Billboard Top 200 in at least the past 25 years, entering the chart at #113. The album will be released in Europe on Monday, March 9 and BBC2 (boasting the largest radio audience in the UK) will feature Roll On as its Album of the Week during its first week of release in the UK. Stateside the album is receiving raves from critics. Rolling Stone described the music as "supremely chill [and] utterly ageless" and check out the excellent All Things Considered feature that aired on NPR last week (listen online here >>).

Late in March, Cale will kick off his first solo tour in 5 years with dates recently added in Medford, OR, Paradise, CA and Fresno, CA. For a complete list of tour dates, please visit the tour dates page >>
---
Trombone Shorty Wins Best Documentary At Beverly Hills Short Festival, Guest Appearance On New Buckwheat Zydeco CD
A short film about Trombone Shorty (Troy Andrews) just won the award for Best Documentary at the 2009 Beverly Hills Shorts Festival. The film was produced by FXF Productions and focuses on his everyday life and on getting a first-hand look at the post Katrina devastation in New Orleans. According to one of the film makers, Eric Alan Donaldson, "The hardest part of capturing the true brilliance of who he is in a short, is deciding what to cut." You can view "Trombone Shorty" in QuickTime or on YouTube.
Trombone Shorty also makes a guest appearance on the soon to be released Buckwheat Zydeco CD, Lay Your Burden Down available May 5 on Alligator Records. See Trombone Shorty & Orleans Avenue live on tour, please see tour dates >>
---
---