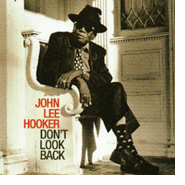 released in 1997 from VIRGIN RECORDS


With his new Pointblank / Virgin release, John Lee Hooker forges forward in an already prolific career that spans half a century. The recording features new and old original songs as well as one new Van Morrison song destined to become a classic. Don't Look Back starts with a raucous version of Hooker's classic hit, "Dimples," that proves guest stars Los Lobos (along with harp player Juke Logan) to be among his best students when it comes to delivering a pounding boogie beat. The balance of the record bears the unmistakable imprint of Morrison, another Hooker disciple, who produced the rest of the tracks and duets on four songs.
Long-time friend Charles Brown alternates between piano and organ duties on several tracks and the core band for most of the recording consists of Charles' bass and guitar player, Ruth Davies and Danny Caron respectively. Joining them are the drummer and keyboardist from Robert Cray's band, studio veterans Kevin Hayes and Jimmy Pugh, and all involved turn in sterling support. Gregory Davis and Roger Lewis of The Dirty Dozen also drop in, adding horns to "Blues Before Sunrise."
The album combines modern state-of-the-art production techniques and raw, deep blues born in another era. The result is timeless treatment of classic material. The title track and Morrison's "The Healing Game," as well as "Travellin' Blues" and "Rainy Day," show Hooker and Morrison trading lines with their legendary voices emoting spontaneously with each line. "Blues Before Sunrise" is a slow, tasty blues that showcases Hooker's vocal style. Hooker then gets playful on "I Love You Honey" and gives us his signature driving boogie on "Spellbound." And Jimi Hendrix is done proud on "Red House," a favorite of Hooker's and a song he recently promised Hendrix' father and sister he would record for this album.
The strength of Hooker's longstanding relationship with Van Morrison is reflected on their duets which show each one at ease with the other's material. While the record was made just this year, Van had discussed the idea of producing John Lee in the late '80s prior to Hooker's comeback with The Healer. Schedules conflicted at the time and Van was unable to participate on that record.
The duo's relationship goes back further still -- their first recorded collaboration came on Hooker's 1972 ABC recording date for Never Get Out Of These Blues Alive, making this recording a 25th anniversary reunion. Other collaborations include the video "Van Morrison: The Concert," recorded live in 1989 at New York City's Beacon Theater, and the BBC's "Rhythms Of The World" program. Van also appeared on John Lee's Mr.Lucky and Chill Out CDs and John has appeared on two of Van's, including their remake of Van's hit, "Gloria," on both studio and live versions. In fact, the one track on Don't Look Back that wasn't recorded this year is their duet on "Rainy Day," a song John wrote on the way to the "Gloria" studio session that was recorded the same day. This record brings to fruition a decade-old plan for these two friends to collaborate on a full CD. And it comes at a time when both artists have reached pinnacles of recognition -- Morrison was recently awarded the prestigious Order of the British Empire (O.B.E.), commemorating his distinguished 30-plus years in the business, and Hooker is riding the crest of ever-increasing critical and popular acclaim.
In keeping with the theme, Don't Look Back, Hooker has kept busy continuously since the release of his 1996 Grammy-winning Chill Out. Recently, the 79 year-old elder statesman of the blues broke out of temporary touring retirement to make a string of high-profile appearances, including a guest of honor spot on the 1995 San Francisco Blues Festival, the theme of which was "A Tribute to John Lee Hooker." Hooker was introduced by the soon-to-become San Francisco mayor, Willie Brown, who read a letter of congratulations to Hooker from President Clinton. Joining him onstage were Ry Cooder, Luther Allison and Charlie Musselwhite for a festival-ending all-star jam. He also recently performed in front of some 50,000 fans in a San Francisco concert in support of the Tibetan liberation struggle that also featured The Smashing Pumpkins, the Fugees, the Red Hot Chili Peppers, and Yoko Ono.
Recognition of his influence across generations and musical genres alike inspired the presentation of The Blues Foundation's Lifetime Achievement Award in November of 1996 at B. B. King's Blues Club in Los Angeles. The event featured performances by B. B. King, Bonnie Raitt, Allison and Musselwhite as well as an appearance by Hooker himself, who teamed up with Raitt on their Grammy Award winner "I'm In The Mood" and performed his trademark boogie backed by Don't Look Back musicians Danny Caron, Ruth Davies, Kevin Hayes and Jimmy Pugh. In presenting The Blues Foundation Award, host B.B. King declared, "Nobody can sing the blues or play them with the style that John does."
Half a century after his recording career began, John Lee Hooker's image and music maintain a worldwide presence. In Tanzania, the government recently issued a postage stamp bearing Hooker's image from a photograph by the esteemed Anton Corbijn, who shot the covers for both Chill Out and the current recording. In Australia, Hooker is seen on TV ads for the Australian Football League. Across Europe, his song "Baby Lee" backs two ads for Lee Jeans while, in Spain, "Chill Out (Things Gonna Change)" is the soundtrack for a Schweppes commercial. In Scandinavia, his "Kiddio" is the theme for a travel agency ad and in England, "This Is Hip" has backed a television ad for Foster's Lager beer. In the U.S., John acts and performs in a lighthearted Pepsi TV ad. And in print, Robert Cray chauffeurs Hooker in a new campaign for Harmon-Kardon stereos. Worldwide movie audiences in the past year alone have been treated to Hooker's music in Rich Man's Wife, Stealing Beauty, and Heaven's Prisoners.
Born near Clarksdale, Mississippi on August 22, 1917 to a sharecropper family, Hooker's earliest musical influence came from his stepfather, Will Moore. By the early 1940s, Hooker had moved to Detroit. Among his first recordings 1948, "Boogie Chillen" became a number-one jukebox hit and his first million-seller. This was soon followed by an even bigger hit with "I'm In The Mood" and other classic recordings including "Crawling Kingsnake" and "Hobo Blues." Another surge in his career took place with the release of more than 100 songs on Vee Jay Records during the 1950s and 1960s.
When the young bohemian audiences of the 1960s "discovered" Hooker along with other blues originators, he and various others made a brief return to folk blues. Young British artists such as the Animals, John Mayall, and the Yardbirds introduced Hooker's sound to a new and eager audience whose admiration and influence helped build Hooker to superstar status in mid-'60s England. By 1970, he had moved to California and began working with rock musicians, notably Van Morrison and Canned Heat. Canned Heat modeled their sound after Hooker's boogie and collaborated on several albums and tours.
During the 1970s and much of the 1980s, Hooker toured the U. S. and Europe steadily but grew disenchanted with recording, though his appearance in The Blues Brothers movie resulted in a heightened profile. Then, in 1989, The Healer was released to critical acclaim and sales in excess of a million copies. Today, the "King Of The Boogie" is enjoying the most successful period of his extensive career. In the past seven years, Hooker's influence has contributed to a booming interest in the blues and, notably, its acceptance by the music industry as a commercially viable entity.
Hooker's career has been a series of highlights and special events since the release of The Healer. In addition to recording his own albums Mr. Lucky, Boom Boom, Chill Out, and now Don't Look Back for Pointblank, he contributed to recordings by B. B. King, Branford Marsalis and Van Morrison and portrayed the title role in Pete Townshend's epic, The Iron Man.
His influence on younger generations has been documented on television with features on Showtime and a special edition of the BBC's 'Late Show' as well as appearances on 'The Tonight Show' and 'Late Night With David Letterman,' among many others. John Lee was invited to perform with The Rolling Stones and guest Eric Clapton for their national television broadcast during The Stones' 1989 Steel Wheels tour. In 1990, many musical guests paid tribute to John Lee Hooker with a performance at Madison Square garden. Joining him on some or all of these special occasions were artists such as Bonnie Raitt, Ry Cooder, Joe Cocker, Huey Lewis, Carlos Santana, Robert Cray, Mick Fleetwood, Al Kooper, Johnny Winter, John Hammond, Johnnie Johnson, and the late Albert Collins.
Hooker's 1991 induction into the Rock n' Roll Hall Of Fame was fitting for the man who has influenced countless fans and musicians who have in turn influenced many more. The 'South Bank Show' documentary on John Lee continues to air in the U. S. and offers an overview of his amazing life from runaway sharecropper's son to a world-famous legend whose music has been a major influence on modern rock n' roll.
John Lee's style has always been unique, even among other performers of the real deep blues, few of whom remain with us today. While retaining that foundation, he has simultaneously broken new ground musically and commercially. And, notably, he has refused to sit back and watch while his many accolades accumulate. This new release shows one of America's most influential senior citizens once again actively creating music for all generations when he could easily be spending his time looking back on a growing collection of awards and accomplishments. The man practices what he preaches - Don't Look Back.