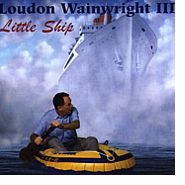 released in 1998 from VIRGIN RECORDS


Throughout his career, Loudon Wainwright III has engaged in the type of soul-baring that many other artists talk about doing, but few have the guts to actually do. His latest album continues Wainwright's delicacy-be-damned mission: Little Ship, like each of its 15 predecessors, comes into the world as fresh, unspoiled, wide-eyed and howling as the newest of newborn babies.
His insistence on raw, compulsive honesty has certainly not dulled Wainwright's senses: if anything, his razor-like humor and wry introspection have grown sharper with time. Yet after all these years, the New York-based musician admits that the songwriting process still controls him as much as he controls it. "Humor, sarcasm, irony, and all that -- they may be elements in the songs, but I can't really command them," he says. "It would be impossible for me to declare 'today I'm going to write an ironic song.' The initial thrust comes from some mysterious place -- maybe just a phrase or a single word -- and eventually it starts rolling forward on its own."
And thus arrives the exquisitely wrought Little Ship. Working with Grammy award-winning producer John Leventhal ( Rosanne Cash, Marc Cohn, Rodney Crowell) for the first time, Wainwright's latest album is his most fully-realized to date, with horn and string arrangements woven among muscular, upbeat rockers and stark vignettes. Acclaimed singer Shawn Colvin contributes stellar guest vocals on two songs, "Mr. Ambivalent" and "Our Own War," adding another dimension to Wainwright's expansive 16th album.
For all its scope, Little Ship is an intensely personal vehicle: propelled by whatever trauma/triumph he happens to be going through at the time, Wainwright invites the listener into the darkest corners of his life with the disarming civility of a well-brought-up child offering a turn on his bicycle. From marital break-up, to his father's drinking problem, to hitting his own daughter a little bit harder than he meant to, Wainwright has made a career of fearlessly confronting topics that others prefer to sweep under the carpet. And Little Ship's port of origin is a place in which everyone has had their passport stamped at least once --The People's Republic of Splitsville.
The love affair which inspired 1996's Grown Man has recently ended, and Wainwright's duty as an artist is to render the resulting emotions into words and music; his goal is entertainment, not self-justification. Opening with the enthusiastic, libidinous "Breakfast In Bed," Little Ship traces a trajectory of romance and estrangement through "OGM," "Underwear," and "I Can't Stand Myself," before finally reaching a bittersweet equilibrium on "Little Ship." Aided by Shawn Colvin's backing vocals and evocative instrumental backdrop, "Our Own War" carries the embattled romance analogy to its logical extreme: "we wanted a military kind of feel to it," explains Wainwright, "and the drums and horns seemed to fit in with that martial theme."
Another prominent Little Ship subject --family ties -- continues a thematic thread from Wainwright's past several albums. "Four Mirrors," "What Are Families For?," and the hilarious foot- stomping epic "Bein' A Dad" examine familial bonds with Wainwright's trademark combination of bluntness and elegance. "Primrose Hill," a departure from the album's largely autobiographical tone, offers a dry-eyed take on the issue of homelessness. Wainwright returns to more personal themes with lovably self-deprecating ditties "So Damn Happy," "The Birthday Present II," and the album's closer, "A Song," a wickedly funny parody of the songwriting process itself. "The World" captures acerbic humor and weary disillusionment in a single perverse, whimsical rant. "The banjo is supposed to be such an optimistic, happy instrument," Wainwright notes, "and I set out to write the most pessimistic song I could, just to piss Pete Seeger off."
Even as he pokes fun at himself and his surroundings, Wainwright is obviously comfortable working with producer John Leventhal, who also plays bass, guitar, harmonium, and percussion on much of the album. "We did the majority of work in John's apartment in the East Village," says Wainwright. "There was a relaxed, spontaneous feel to the sessions."
The casual environment had its drawbacks: "we would have to wait for the guys in the apartment overhead to stop walking around and making noise," laughs Wainwright. "They became known as the Clump Brothers. Between them, car alarms, and buses roaring outside the apartment, there was a lot of noise to contend with. John had to duct tape sound baffling to his bathroom door, because the toilet kept gurgling. On 'A Song' you can actually hear the Clump Brothers in the distance; we weren't able to get rid of the noise, but it's alright. It adds to the ambience."
Bringing an entirely different type of ambience to two songs is Shawn Colvin>. Leventhal has known and worked with Colvin for years, having produced her Grammy-winning 1989 debut Steady On and Grammy-nominated 1996 album A Few Small Repairs. Wainwright and Colvin first met in New York in the early 1980s when both were involved in the Broadway stage production "Pump Boys and Dinettes," and the pair also duetted on the song "Heart Needs A Home" from the recent Richard Thompson tribute album Beat The Retreat. "When we were thinking of adding female vocals," says Wainwright, "she immediately came to mind. She had expressed a willingness to sing on the record and wouldn't take any money for it. It was an offer we couldn't refuse."
Ultimately, Wainwright's artistry revolves around his ability to probe and expose the most intimate facets of his own life. Documenting calm seas, troubled waters, and the occasional bout of embarrassing seasickness, Little Ship offers new diary entries from Wainwright's ongoing journey -- a journey whose ups and downs are equally compelling.