Rosebud is music industry's first Solar Powered facility >>


buy CDs via rosebudus.com and help music charities >>


Certified Green - The Rosebud Agency has been named among the first San Francisco businesses to become officially certified as a Green business. >>

For booking, please contact agent for your area >>
For complete roster, please refer to Roster >>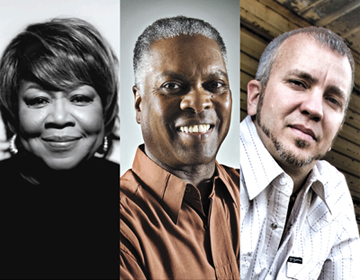 The gospel, rhythm & blues and deep soul of legendary icons Mavis Staples and Booker T., joined by up and coming roots artist JJ Grey come together for a beautiful, uplifting night of American music. Performing both separately and together, the artists promise a concert filled with timeless hits, heart and plenty of soul.
Mavis Staples is a Lifetime Grammy Award winner, National Heritage Fellowship award winner, five-time Blues Music Award winner, Rock And Roll Hall Of Fame inductee and one of VH1's 100 Greatest Women of Rock and Roll. With The Staple Singers and on her own, Mavis is responsible for blazing a rhythm & blues trail while never relinquishing her gospel roots. Mavis reached back to the Freedom Songs of the 60's for her latest Ry Cooder produced hit CD, "We'll Never Turn Back" and will release her first live CD "Live: Hope at the Hideout" on Nov 4, 2008.
Booker T. is a Rock & Roll Hall of Fame inductee, Musicians Hall of Fame inductee, Grammy Lifetime Achievement Award recipient and leader of the legendary Booker T. & The MG's. He has lent his trademark keyboard chops to artists as diverse as Ray Charles, Eric Clapton, and Neil Young. He has also produced classic records such as Willie Nelson's triple platinum hit "Stardust" and Bill Withers' hit "Ain't No Sunshine". Booker will release his long-awaited solo CD in the Spring of 2009 (Anti Records).
JJ Grey is the leader of the band MOFRO and exudes funky, melodic, front porch realism in every song he plays. Grey comes from a long tradition of Southern storytellers. From gritty funk to juke joint romps to contemplative country soul, JJ Grey's music is at once contemporary and classic.
*JJ Grey & MOFRO are represented by Monterey International.
---