Meshell Ndegeocello To Release Devil's Halo October 6, 2009
August 2009, Rosebud News

Meshell Ndegeocello will release her 8th album, Devil's Halo, on October 6, 2009 on Mercer Street/Downtown Music (David Gray, Ozomatli, Femi Kuti). A renowned bassist, singer, songwriter and 10-time Grammy nominee, Meshell has spent nearly two decades as an uncompromising innovator in the worlds of rock, jazz, funk, soul and beyond. She produced the new CD with guitarist Chris Bruce with a focus on musicianship and live-band energy. Genre-defiant as ever, Devil's Halo is influenced by a wide breadth of sounds - from The Human League to Wu Tang Clan to Yes - and displays Meshell's vocals and diversity throughout. Meshell will be on tour in October, please see Tour Dates >>
---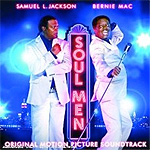 Meshell Ndegeocello Featured On "Soul Men" Soundtrack
November 2008, Rosebud News


Meshell Ndegeocello is featured on the soundtrack CD to the new comedy "Soul Men" starring Samuel L. Jackson and the late Bernie Mac. The soundtrack is out now on Stax Records and also includes music from the late Isaac Hayes, John Legend, Anthony Hamilton and Sharon Jones & the Dap Kings, among others. On the soundtrack, Meshell performs a cover of Albert King and Pops Staples' "Water". You can learn more by visiting "Soul Men" movie site. Meshell will be touring the US West Coast in December 2008 with more 2009 dates to follow - see tour dates >>
---

Bettye LaVette, Mavis Staples And More Rosebud Artists Recognized In Village Voice Pazz & Jop Poll
January 2008, Rosebud News

Rosebud artists Bettye LaVette and Mavis Staples scored spots in the top 35 of Village Voice's annual "Pazz & Jop Poll" for LaVette's Scene Of The Crime and Staples' We'll Never Turn Back. The annual poll combines ballots from 577 critics' Top 10 lists to acknowledge the best albums of 2007. Additional Rosebud artists whose CDs were honored were Bill Frisell (for his work with Floratone and with Paul Motian and Joe Lovano) Loudon Wainwright III, Meshell Ndegeocello, Ruthie Foster, Pieta Brown, Ann Savoy and the late Muddy Waters. Compilations that featured Rosebud artists were Instant Karma: The Amnesty International Campaign to Save Darfur (Sierra Leone's Refugee All Stars), Goin Home: A Tribute To Fats Domino (Allen Toussaint, Dirty Dozen Brass Band, Trombone Shorty and Marcia Ball) and Song Of America (The Blind Boys of Alabama and Bettye LaVette).
See the full list of albums at: Village Voice's annual "Pazz & Jop Poll" >>
---
Grammy Nominations For J J Cale, Bettye LaVette and Meshell Ndegeocello - Just Announced
December 2007, Rosebud News

The 2008 Grammy Award Nominations were released today (December 6, 2007), with Bettye LaVette and JJ Cale each honored with their first Grammy nod and Meshell Ndegeocello grabbing her 10th nomination. Both Bettye LaVette and JJ Cale are up for Best Contemporary Blues Album, for LaVette's The Scene Of The Crime and JJ Cale & Eric Clapton's The Road To Escondido. Ndegeocello's 10th nomination is in the Best Urban/Alternative Performance category for "Fantasy" from the compilation album, Interpretations: Celebrating The Music Of Earth, Wind & Fire (Stax). The Grammy Awards will be held on February 10, 2008 in Los Angeles.
---
Meshell Ndegeocello's New CD, The World Has Made Me The Man Of My Dreams, Out September 25
September 2007, Rosebud News


Nine-time Grammy nominee Meshell Ndegeocello will release her 7th CD The World Has Made Me The Man Of My Dreams on September 25, 2007, on Decca Records. Channeled through orchestral soundscapes and an unapologetic punk aesthetic, Meshell questions the inevitable, inconceivable brutality of the world with an arsenal of familiar themes: faith, rage, despair, fleeting joy and nagging doubt. Ndegeocello continues to defy pigeonholing of any kind, but long term fans will appreciate the unapologetic return to pure funk workouts on display in songs like "Michelle Johnson," "Headline," and "Solomon." Look for Meshell on tour supporting the new CD this Fall -- see tour dates >>.
---
Film Talk To Me Features Songs By Rosebud Artists Meshell Ndegeocello, Booker T. Jones & The Staple Singers
July 2007, Rosebud News


Songs by Meshell Ndegeocello, Booker T. Jones, and The Staple Singers are featured in the film Talk To Me, the true life story of Ralph Waldo "Petey" Greene Jr., an ex-con who became one of Washington DC's most recognizable radio personalities in the 1960s. In a time of vibrant soul music and exploding social consciousness, Petey found a way to "tell it like it is." The soundtrack CD features Booker T. & the MGs' "Hip Hug-Her" and Meshell Ndegeocello's cover of Eugene McDaniels' jazz-soul protest song, "Compared to What," originally made famous by Les McCann and (charter Rosebud artist) Eddie Harris. Ndegeocello worked with the film's composer Terence Blanchard on "Compared to What," which is the only newly recorded song in the film. Talk To Me stars Don Cheadle, Chiwetel Ejiofor, Martin Sheen, Taraji P. Henson, Mike Epps and Cedric the Entertainer and is set for nationwide release on July 27, 2007.
---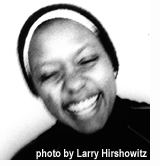 Meshell Ndegeocello Signs With Rosebud Worldwide
July 2007, Rosebud News
Renowned bassist/singer/songwriter Meshell Ndegeocello has signed with The Rosebud Agency for exclusive worldwide representation. Rosebud is proud to welcome the 9-time Grammy nominee, who has spent nearly two decades as an uncompromising innovator in the worlds of rock, jazz, funk, soul and beyond. Ndegeocello is currently gearing up for her seventh solo release, "The World Has Made Me The Man Of My Dreams". The album is out September 25 on Decca Records, with fall and winter tour dates to be announced soon.

---